If you've already clicked on this post, you must have had thoughts of opening your own ecommerce store. There is no doubt in saying that e-commerce is the ultimate future of the retail industry where no retail business can stay out of it.
Now that you seem to have developed this keen interest in becoming an e-commerce owner, you'll be happy to know that starting an online retail business no longer requires deep technical knowledge. You just have to hire an agency or choose an e-commerce platform and do everything on your own.
What is eCommerce Software: List of eCommerce Software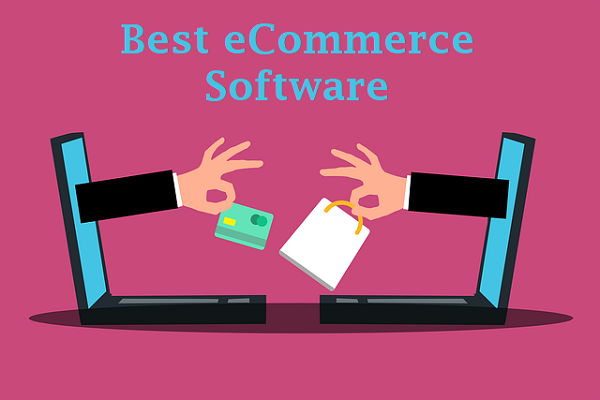 Let us help you with the names of the best ecommerce software platforms that you can use for jumpstarting into this aspect of retail business.
Magento
They have completed celebrating their ten years anniversary and hence can call themselves the best e-commerce software provider in the market. Their proud clients are Huawei, Burger King and Pepe Jeans. This platform offers numerous customization options, scalable extensions and plugins. Other widgets are also pre-installed into themes that can be bought by the user.
WooCommerce
WooCommerce has already powered more than 30% of all online stores and gradually they've become one of the best in the industry. This is an extremely user-friendly e-commerce platform. Initially, this was developed as a WordPress Plugin and you need to have some previous experience while working with this CMS. However their admin panel is still trying to make this platform easy-to-use for the beginners.
CoreCommerce
CoreCommerce is definitely one of the paid e-commerce platforms that offer reasonable pricing plans that seem to be appropriate both for the B2C and B2B firms. They have 18 free, mobile-friendly and customized themes. Each of the page templates can be changed in the admin dashboard like navigation bar, logos, widgets, borders, fonts, header, style through HTML/CSS editor.
3D Cart
This is an SEO-friendly, mobile-friendly, dependable, scalable and affordable online e-commerce platform for the potential e-commerce retailers. This platform offers more than 50 free and 23 premium responsive themes with access to CSS and HTML code, built-in blog, CMS and other tools like Quick Cart, Quick View, Single page checkout and many other features.
Shopify
Shopify is an e-commerce software platform for social selling, online stores apps and e-commerce that supports more than 600.000 online shops with more than 1 million active users. The client is allowed to select one from the 100 responsive themes which are offered free of cost and purchase premium designed themes that can change imagery, colors and fonts. You can handle numerous products through the multiple selling channels.
BigCommerce
This platform offers services for B2B firms, small business startups and also for bigger enterprises. The clients can create an online shop that has built-in marketing and tools for conversion. BigCommerce provides you with the ability to combine Amazon, eBay, Pinterest, Facebook and Google Shopping. You can also easily convert the desktop version to a mobile version to use it on the go.
OsCommerce
This is an open-source free program that has managed more than 12K online shops that are compatible with Bootstrap 3 and it also supports CSS3 and HTML5. You have to install the online store through a web browser surface. This platform provides you with packaged pre-installed shipping and payment modules. You can deal with unlimited goods and work on their photos, description, price, photos, method of payment, tax and delivery.
Yo!Kart
This is entirely made for multi-vendor marketplaces and it lets start-ups to design web stores that are not just rich with features but also responsive. The themes that are offered are all UX-optimized, intuitive and also mobile-friendly. If you wish to get a personalized result, there is a simple designing process. The best part is that this is a multi-currency and multilingual platform.
Volusion
You ask customers about Volusion and they will describe it as 'easy to use'. This software platform for e-commerce stores is trusted by more than 180,000 businessmen and it is a one-stop solution. Once you get access to editor's functionality, you can customize 11 free and 36 premium themes that depend on your preferences and needs. It is blessed with social integration and SEO tools and Google Analytics.
Squarespace
This is best known as website building platform and it offers pretty useful opportunities for creating an upscaled online e-commerce store. Though it is tough to compare with giants like BigCommerce or Shopify but this too provides you vital features of an ecommerce platform. You can freely change titles, logo, lock screen, style, informational bars, badge etc.
Kibo
This is a cloud-based e-commerce platform that has powered more than 800 online stores. It is an omnichannel software that integrates order management, eCommerce and retails. This is a platform that is apt for B2C and B2B as it provides personalization options like collecting real-time data, creating profiles for customer experience, personalized marketing emailing, landing pages and optimized product search.
OpenCart
OpenCart is an open-source ecommerce platform that is used for building scalable, professional and responsive online stores. The marketplace of OpenCart offers more than 13000 modules, extensions and themes. Their service offers more than 20 shipping and payment gateways including PayPal, Amazon Payments, FedEx, Skrill and many more.
Prestashop
This is easy to download, comes free of cost and can be installed seamlessly. They have the widest list of online store themes and their 4000 templates are responsive whereas maximum are SEO-optimized. The templates include image zoom effect, graphics, parallax scrolling, blog system, color switching and font editor. It is a highly recommended platform.
Big Cartel
Though this has smaller list of features than several of its competitors, Big Cartel found its niche in online stores for makers and artists. Their interface and dashboard is a rather simple one that has all the necessary options. This platform offers 15 well-designed mobile-friendly themes which can be changed as per your needs.
Demandware
Did you know that the brands like New Balance, Adidas, Versace, Reebok, Tommy Hilfiger and Hugo Boss have their online shops powered by Demandware? They are one of the most advanced ecommerce platforms with scalable interface and architecture that offers excellent performance irrespective of the load of the site.