Exposure X5 is presently said to be the go-to tool for rejuvenating the depth and atmosphere of analog film. The presets of this software are undoubtedly one of the best assets as they have been developed with a creative eye and love for darkroom looks.
Alien Skin Exposure X5 Software Review 2020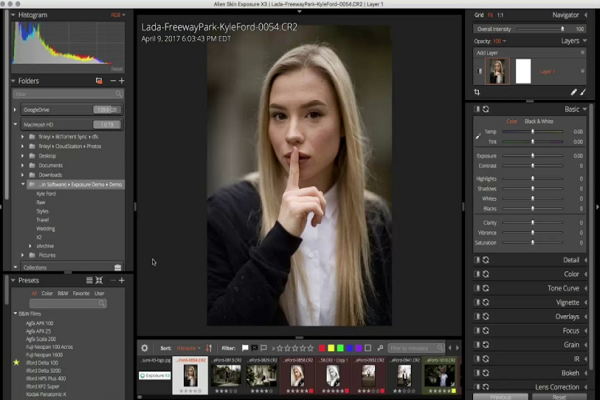 Exposure X5 is a modern image-editing tool with a straightforward and effective cataloguing and browsing system. It offers everyday image-editing, enhancement and correcting tools and some forward looking cinematic, lo-fi and contemporary looks too.
If you are a photographer or a graphic designer, this review has been made for you. Go through the pros and cons and features of this software so that you know what you're investing your money in.
Our Verdict on the Pros and Cons
Alien Skin Exposure X5 is one of the best free software that has been created for stylizing images, color correction, immitate black and white or color film photography.
Moreover, this is also an extremely powerful Photoshop plug-in. Unlike the other plug-ins of Photoshop, this has a vital peculiarity – it can be seamlessly used by a beginner. Here are the pros and cons of this photo editor.
The PROS
Constant import capabilities from several resources.
Edits and metadata are saved in the form of local files.
One-time purchase.
High quality filters.
The CONS
App works slowly when opened from a launcher.
Raw + JPEG image pairs are treated in a different manner.
Alien Skin Exposure has more than 500 templates that are easily overlayed on an image to apply the impact of matte emulsion, 'dirt', scratches, flare or dust to the image in order to give the look of an old picture. There are few effects that you can also apply on certain parts of an image and not to the pictures.
A detailed review of Alien Skin Exposure
Besides the film imitation, this plug-in also lets you create other classic photo effects like soft focus, cross-processing etc. Generally, these impacts are precise settings of levels, contrast, saturation and others, which have been saved. Here are few of the features that are worth mentioning.
User-friendly interface
As and when you launch Alien Skin Exposure, you will undoubtedly notice that it is strikingly similar to Lightroom. However, once you take a closer look, you will find more differences. Lightroom is renowned for its file managing features and these are not to be found in Alien Skin.
All sorts of similarities boil down to the gray color of the user-interface and the triangular arrows that are there for toggling the panels. Alien Skin has got two panels on each side, where the left is for the source file and the right one for metadata and adjustments.
Different Operating Modes
Once you choose the filter, you have to select the way you'll be working, whether B/W or color. There are differences in terms of presets and also have varied fine-tuning parameters.
As the filter is running, you may switch between the B/W and color modes through the top Filter menu where you can either choose 'Color' or 'Black and White'.
Each mode comprise of same tabs – Settings, Tone, Color, Focus and Grain. Though the purpose is same, yet the settings parameters are a little different.
At the right, you'll find a preview window with a Preview Split feature that allows you to split the image in the window and show half of the image with the applied effect and half with the original one.
File Copy from Cards Function
When you work with RAW files, you won't have to import them from a card or your hard drive. This software has a feature that lets you copy the RAW image and the other one lets you bookmark the folder with the files and the contents that are brought to Alien Skin Exposure.
No Catalogue
There is a no cataloguing system just as the one that you have in Lightroom and this is more file management oriented. Alien Skin Exposure was designed to do the photo editing as fast as possible and then post the result online. With the help of this program, you can create a separate folder within the folder that you're working with.
There are people who choose this way of working due to the issue with a corrupt catalog in the Lightroom. One of the great features is that Alien Skin offer a restrained number of shared edits.
You should use the program on computers that can share similar files. If you decide to move original files, you won't have to move the catalog separately. The Alien Skin folder will move along with the source file folder.
Fun with Layers and Effects
Alien Photo editor has got several presets. If you wish to design a vintage-style portrait that looks like a Kodachrome shot straight from the 1950s, you can do so with scratches. You can shape an image with the focus shaped like a heart or soften the skin or whiten the teeth of the model and do several other things.
Few of these presets come with more than one layers and if you wish to change these, you can do so. One more thing is to stack different presets on one image and you're allowed to play with that too.
In case you wish to be creative with your images, you may utilize features as Focus, Grain, Overlays, IR or Bokeh. You may even play with textures, borders and other light effects.
Price of Alien Skin Exposure
Do you feel intrigued by the features and you wish to buy Alien Skin Exposure X5? If answered yes, you have to pay $119. In case you seem to be interested in some added Alien Skin products, the total price will increase to $149.
On the contrary, if you use an older version, you may even buy an update. In case you're new to this software, there is also a 30-day trial period that you can enjoy.
So, it can be said that as a photo organising tool, Exposure X5 is efficient, straightforward and surprisingly powerful. It may not offer you panoramas, multi-layer composites and focus-stacking but as an everyday editing tool, it is good to go.