Comodo Antivirus for Windows 10 is a free antivirus software solution that uses numerous layers of security to keep you protected from all viruses.
This antivirus package provides you with real-time protection, blocks malware, detects it and deletes it before it can cause any harm to your computer. Whenever you open an untrustworthy application that is unknown to you, this antivirus can run it in a sandbox to keep it from infecting your computer.
Comodo Antivirus Software for Windows 10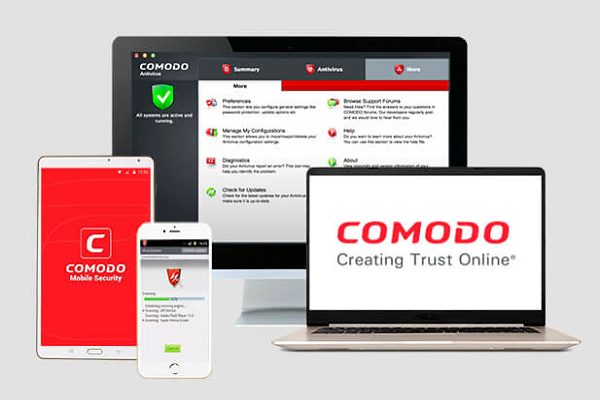 In the sandbox, you are allowed to run legit applications and browsers and even the virtual desktop and this makes it tougher for the threats to transform your PC or monitor whatever your activities are online.
A short expert review of Comodo Antivirus
The stable version of the Comodo Antivirus is reputed for their amazing user interfaces. However, did you know that this company is one of the few antivirus companies that provide a free tool for Linux as well as a free antivirus for MacOS?
As and when the users tested this antivirus solution to check the protection power, they found it to live up to their expectation and pass the test in flying colors.
Security Features of Comodo Antivirus
The antivirus offerings of Comodo include a free product, which is the Comodo Antivirus and the Comodo Antivirus Advanced that provides instant removal of virus and real-time scanning to check the system files of the users against those that have been identified as harmful by the cloud based system.
Comodo Internet Security is provided free of cost and this offers an interesting array of internet security features that include application control, default deny protection and whitelisting based on cloud which are all useful for recognizing legitimate files.
The Antivirus Advanced program offers the most impressive features that include the Auto Sandbox Technology of the company. The antivirus functioned smoothly during all the tests and this helped it earn a good reputation.
Comodo also offers a free antivirus program for MacOS that has immediate file scanning facilities. It also has the ability to run virus checks with the help of only one click. So, if you're a desktop user who is looking for a worthy antivirus solution, Comodo has it for you.
Effective features of Comodo Antivirus
The Comodo antivirus and the other internet security products also packs in some of the best features.
In fact, once you check out the mixture of the tools that they offer you, you will know that it is impossible to find it elsewhere. Among all the features, here are the ones that will grab your attention.
Game Mode: It must have happened to you that you're interested in your favorite game and then you suddenly got interrupted by the quarantine popup of your antivirus program. If this has happened to you time and again, you will be thankful to Comodo as they provide you with a 'game mode' where it suppresses all unwanted messages as the user is gaming.
Application Control: All antivirus programs don't offer the tools to assist users in navigating that tough territory between using a functional but infected system and recovering a broken and unbootable system from a Live USB. Thankfully, Comodo covers this gap. With its Application Control, you can lock down their system and use programs which are considered safe.
User-friendly nature of Comodo Antivirus
Comodo leaves no stone unturned as long as offering crazily amazing interfaces are concerned. Their user-interfaces are not just functional but also visually appealing.
Apart from the 'Game Mode' feature, there is also the ability to scan with just one click, control how and when popups would display and also choose a theme for styling the program.
Although there are several other antivirus manufacturers that have delivered great products yet Comodo sets the bar high for the industry in terms of user interface.
Scanning options of Comodo Antivirus
With this antivirus solution, scans are nothing but a click away. You get a scan button on the main menu and you needn't be a pro to use it.
The Quick and Full scans are always at your disposal and you can instantly launch them whenever you wish to. The full scan will take 1hour and 20 minutes which is slightly slower than the industry average but it is still considered good enough.
With the help of custom scans, you can choose which folders, files and apps need to be tested and you are allowed to set multiple custom scans. You are permitted to scan the memory, the most infected areas and also the other areas. You can also fine-tune and adjust how the heuristic check will be.
Apart from these, you also get a Rating scan that scans the areas that are most commonly infected and also the active processes. This scan creates a reputation list for the files on your operating system.
This list will include all those files that are not dangerous but those that can be totally relied on. If you doubt whether or not there's a dangerous threat on your device, this scan can clear several things.
Performance of Comodo Antivirus
One of the most crucial aspects of Comodo antivirus is its impact on the system. As long as performance is concerned, programs take longer time to load when there is a scan going on.
After you install and run this software, the operating system will run slower. Hence, it can be said that on an average, any antivirus will slow down the loading of websites by a second but with Comodo, you can expect it to slow down by two seconds.
This much difference can't be a deal-breaker but the users that give first priority to performance may not prefer this solution. During strong benchmarks like Handbrake, this antivirus can slow down your performance by at least 40% and this is one of the worst results that you may have in the industry.
On the contrary, if you mostly browse websites and never launch any CPU-heavy scans and tests, Comodo won't cause a big issue.
So, it can be concluded by mentioning that Comodo deserves praise for more than its design usability and industry-leading attention. Their support team achieves the highest marks for their knowledge and responsiveness.