Now that you're loaded with emails in your mailbox, do you wish you had some software or a tool to track those mails? Don't you wish to have something through which you could know when the mail was read and also track other links clicked, browser, IP address, location of the sender and OS from which the mail has been sent? Thankfully, all these are possible with the help of email tracking software.
15 Best Email Tracking Software & Tool To Use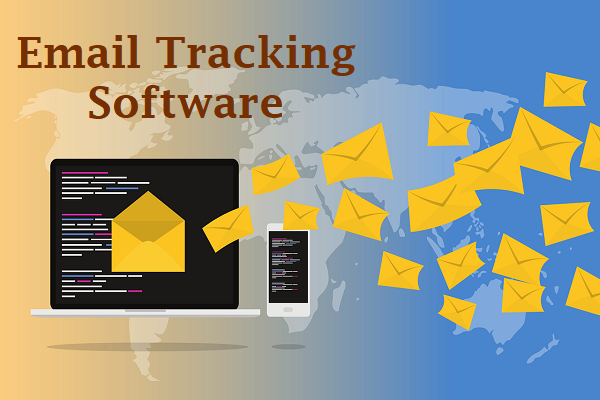 Amidst the multitude of email tracking software that you get in the market, how are you going to choose the cream of the crop? Here are the names of the best email tracking software that you can use in 2020-2021.
SalesHandy
This is the only sales engagement software that also offers free email tracking without posing any kind of limitations and restraints on the user. You can track mails both on Outlook and Gmail using the email tracking plugin from SalesHandy. You will know whether recipients have opened your mail and how many times they've viewed it. It also offers scheduling emails within time zones, template sharing, tracking attachment, filelink sharing and Bcc to CRM.
Yesware
Yesware is another powerful email tracking software that has got all sorts of reporting features. It not just tracks mails that you send but also schedules time for your mails so that they can be sent later. Yesware can also be integrated and combined with any other CRM like SugarCRM and Salesforge. Yesware is integrated with Outlook and Gmail and it gives different information that you need on emails.
LiveHive
LiveHive is yet another interesting and amazing tool which is ideal for business firms. It is blessed with cutting-edge features that have the capability of fulfilling the needs of your business. LiveHive lets you boost your productivity by tracking mails that show you the statistics and data of engagement. It also includes where the email has been forwarded, the total number of clicks on links and the number of attachments that were downloaded.
Bananatag
This is a chrome extension that can be used with Firefox and Chrome. It offers perfect tracking reports for all the mails that you send with the use of Bananatag. This software notifies you when the mail that you sent is read, the links that are clicked, and the device used for sending mails and the location of the sender. You can integrate this with mail services like Yahoo, Gmail and Outlook.
Sidekick
Sidekick is a product of HubSpot and it is yet another amazing tool that has varied features. You are given information on your contacts and your history. You are notified when a person opens your mail, clicks on the mail and also offers information on how many times the email was read by the recipient. It also lets you schedule mails for sending them at some other time.
250OKSuite
If you ask yourself the ways of tracking an email in a most bonafide manner, then 250OkSuite will give you the best answer. This software lets you maximize your sales performance through deliverability and advanced analytics. It doesn't only let you improve the performance of your inbox but also creates personalized email management solutions. This tool tracks all the main aspects of your emails.
ToutApp
For a complete solution for sales acceleration, ToutApp is definitely the best one. It handles all your repetitive tasks in an easy way. ToutApp has mail tracking features and can be integrated with SalesForce. Being able to track reports real-time is one of the best features of this tool and you can get statistics of the sent mails too. You can try their 14 days free trial version before upgrading it.
Rebump
This is an email tracking software that comes with a rather unique idea, just as its name. It provides you with a feature of tracking mails but the most amazing feature is that it can also send you follow-up mails to those who didn't respond for a definite number of days. This helps you increase your response rate for emails. Rebump offers you a free trial version for 30 days after which you may upgrade to the premium version if you like it.
Cirrus Insight
Cirrus Insight is yet another email tracking tool that combines Google Contacts and Google Calendar and Salesforce with Gmail. This is a product of the Salesforce app which empowers a person to boost sales productivity, use contacts from the CRM of Salesforce and track mails. A marketer can get a quick view of the details in your email inbox and this eliminates the task of entering your data into the CRM.
Boomerang
No, this is not the one from Instagram but it is rather an easy-to-use Chrome extension that works perfectly on Android and iOS devices. It is basically made for Gmail users and offers features like reminders, mail tracking and sending follow-up mails whenever needed.
ContactMonkey
ContactMonkey is an effective tracking tool that notifies you whenever the recipient reads your email and also tells you how many times it was read. You also get location information of the person and hence it becomes highly useful for marketing and sales people who are trying to increase their email engagement.
FollowUp
FollowUp happens to be a unique tool that informs you when your email is ready and has other features that let you set reminders for sending mails. It also sends replies like 'We are waiting for your reply' to a user that doesn't reply you back on time. They don't have a free plan.
MailTrack
MailTrack is an interesting and free mail tracking software that you haven't come across ever. It has a feature of indicating you with 'Double-tick' marks. When it is a single tick, it means you mail has been sent and when it is a double-tick, it means your message has been read.
MxHero
mxHero is another great software program that lets you track sent mails. You can also choose options like self destruct, attachment track, send later, private delivery, reply timeout and several others. If you choose 'self-destruct', your mail will be destroyed within 5 mins of reading it.
Streak
Streak is a Google Chrome extension that can let you track mails in Gmail. It displays an eye icon that can either grey or green which tells you whether the mail has been read. You also get to know of the location of the device where the mail is read.