Do you run a church that is direly in need of a software to conduct and manage all sorts of religious proceedings? When you seek help of such a church software, it exhibits and manages all sorts of religious materials during gatherings and Masses. They are usually taken resort by the religious leaders to curate multimedia content, play church music, create slides, and import all sorts of religious text and much more.
List Of 15 Best Church Presentation Software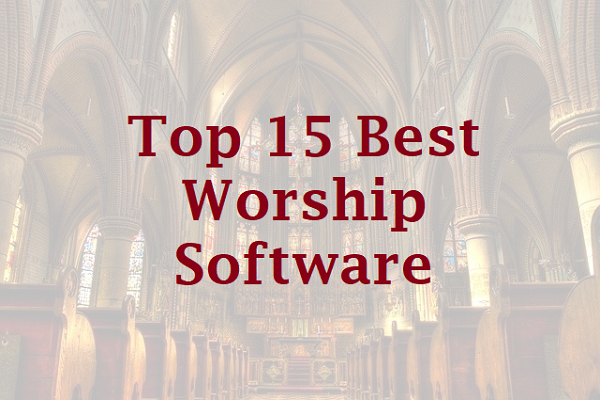 Most often, churches use presentation software to share and present religious content to their members. Among the plethora of options that you have in the market, we've compiled a list of the best 15 worship software.
SlideDog
Although this is not especially tailored to meet the needs of a church but majority of the pastors and AV technicians of a church own this software. They use it for tackling sermons and other church services in America. SlideDog offers some great media and PowerPoint files compatibility. It has an Android/iOS web based remote that offers features like audience interaction. It doesn't have SongSelect or Bible integration however.
WorshipTrac
This software called WorshipTrac is an ideal solution for the worship leaders of churches of all sizes who are in dire need of simple and fast plan for handling church services. It has been created by worship leaders for worship leaders. You can fast design outlines for worship, schedule the number of people you can allow, tackle the church music and do several other tasks. You also get features like block-out dates and SongSelect.
MediaShout
MediaShout is a perfect solution for small and medium sized churches and ministries. With MediaShout 7, you actually get the latest version of this church presentation software. MediaShout 7 has been created to make it the most flexible among the lot. With this software, you can run and create worship presentations. It has features that can enhance the visual elements of all parts of your worship service.
Logos Bible Software
This software is an ideal option for the expository pastors who regularly preach their disciples, the leaders of the church, the students and professors of Bible College and intellectual Christians. Thanks to this software that you can find all sorts of secret biblical insights that you wouldn't ever find in the library. It empowers you with multiple useful tools to improve your knowledge on Bible and help you create your sermon slides.
Propresenter
This one is a definite choice as long as worship software and live church presentations are concerned. It is a cross-platform (Windows and Mac compatible) church presentation software that is best for managing live events. You can make premium quality live presentations as easy as ever with the tools offered by Propresenter.
ZionWorx
ZionWorx is an effective multimedia presentation software that serves all sorts of specific requirements of the worldwide churches. Schools can also use it for designing media presentation. This is a high quality church presentation software that is also affordable at the same time. It is immensely user-friendly and provides you hassle-free playback of videos and live video inputs.
EasyWorship
EasyWorship is an efficient yet easy-to-use church presentation software. With this software, you can design your church services like announcements, Scriptures, lyrics of songs, sermon notes and videos all in one place. Once you use this software, you'll know that it is tailor-made for all sort of church tasks.
WorshipPlanning.com
If you have ministries and worship teams that are looking forward to ways in which they can cut off time in administrative services, WorshipPlanning.com is the best choice. It is one of the most comprehensive software in the industry. You can organize and create different services, categorize teams and schedule people to serve you on time.
WorshipExtreme
WorshipExtreme mainly caters to the needs of churches and ministries. This is a web-based church presentation software that offers you features like libraries, templates for songs, integrated bibles, motion graphics and remote. It is a light-weight and simple solution that has been built exclusively for such tasks.
OpenLP
This is an on-premise worship software that assists churches of all sizes in creating playlists, importing multimedia, handling church documents and demonstrating presentations. It also supports playback of several video files at the same time through VLC integration. This company is also US-based.
SongShow Plus
SongShow Plus is another effective platform for cloud-based worship management that lets churches display the lyrics of songs and scriptures on slideshows. You can also use this software for broadcasting live videos, scheduling requests and handling content. SongShow Plus can display Scriptures, live video and song lyrics.
VideoPsalm
VideoPsalm is a worship software that is used by thousands of evangelical Churches from all throughout the world. This software is free and it is compatible with PowerPoint, OpenSong, EasyWorship, OpenLP and different other solutions. It was founded in the year 2011 and now they're an experienced provider.
ShareFaith Presenter
ShareFaith Presenter is an on-premise church presentation software that offers customized song building options, broadcasting of lyrics, effects like custom transition and much more. It offers you different backgrounds, powerpoint templates, countdown timers and many more interesting features. Their pricing starts off at $25 in a month and they don't have any free version. You can't get a free trial for using the software before buying.
OpenSong
This is yet another properly maintained open source software that concentrates on handling of chords, lyrics, bible verses, lead sheets and scriptures. OpenSong provides timed slides loops along with images and texts. You can also keep a track on the title, author, copyright of the song. This software is available for Mac OS, Microsoft Windows and Linux Operating System. It also has a desktop application for importing songs.
EasySlides
EasySlides has been designed for the projection of Bible texts and lyrics through a projector. It supports multimedia and lets you play video and audio files in the background with the lyrics attached to them. EasySlides has an in-built praise book generator and its latest version, v.4.0.5 is available only for Windows.